MAKING GOD KNOWN IN FAMILIES
Family Ministries
We believe that strong families are the foundation of a healthy society. Our desire is that Slovak families have good relationships filled with love and understanding for one another. We help build strong families through our camps, training weekends, preschool, and raising awareness.
FAMILY CAMPS: GROW SPIRITUALLY, BUILD YOUR FAMILY, & HAVE FUN!
Family Camps
Every summer YWAM Slovakia organizes Family Camps. In a Family Camp you will experience:
Morning sessions to deepen your relationship with God and strengthen your family.
Rich children's programs (in age-appropriate groups) where your kids will play games & sports, take part in competitions, explore their creativity, and more.
One-on-one spiritual counseling with experienced staff from Slovakia and abroad.
Free afternoons to spend with your family
Fun Activities Including: sports, creative workshops, competitions, a couples evening, and discussion groups
Premarital Weekends
If you are a couple that plans to build a future together and wants to lay a firm foundation for your marriage, this weekend is a perfect opportunity. Our course is based on Christian principles that will offer you practical advice on how to prepare for life together and how to nurture and protect your relationship for the long haul.
During these weekend you will participate in 5 thematic blocks:
importance, benefits and consequences of mutual commitment
effective communication, getting to know your differences and understanding each other
how to solve conflicts and heal wounds
building friendship and expressing love so it lasts a lifetime
identifying and establishing common goals and values
After each of the blocks there is time for you to talk as a couple about what you have heard, what you would like to apply, what you fear or expect,… and also just enjoy being together.
This course is taught by Vlado and Renata Sochor, who have been enjoying their marriage since in 1991.
National Marriage Week
We believe marriage is the best foundation for a long-term, loving relationship between a man and a woman, built upon a mutual lifelong commitment. Marriage contributes significantly towards the level of trust in society and, for many married people, it is a source of deep personal happiness. Marriage also provides our society with a stable and loving environment for raising children.
National Marriage Week (NTM) encourages local initiatives to promote marriage in creative & original ways – privately or publically – during the week of St. Valentine's Day. NTM creates a space to remember that a happy marriage is not to be taken for granted, but is a relationship we should be investing in.
NTM is an umbrella campaign aimed at practically helping marriages throughout Slovakia. It is a platform for cooperation between a wide range of organizations, whose goals are to develop the quality of marriage relationships. Anyone sharing similar values and goals can take part in this initiative.
ADVENTURE WITH DAD
Fathers, do you know what your kids long for? If you asked them, they would probably tell you a number of things. Some responses may be serious, some might make you smile. But do you know what your teenager really longs for? Hidden in the depths of their heart there is a longing to be with their father and to experience something unforgettable together.
What about your own heart? Even though there might be a number of things, there surely is the desire to be a good father to your child and to pass on those values that you hold most dear, to be sort of a hero in their eyes and at the same time to pass on some of the wisdom you have learned so far. Maybe it's worth trying something new … what about an unforgettable weekend outdoors, just you and your son!
An Adventure Weekend with Dad
intended for a father and one of his sons, aged 10 to 14 years
full of adventure, suspense and fun working together
provides many new ideas and challenges
helps you to be a better father and deepen your knowledge of God as a Father as well
It may surprise you how much your teenager really admires you. Give them, and you, the opportunity to find out!
The Key to Kids
… is a Christian children's club, whose goal is to create an environment where the many sides of their personality are developed and the child is integrated into a social group.
Games, movement, language, music, ethics, relationships, imagination, creativity, theater, rules…
We don't just want to keep the child occupied, but help them through games and creative activities release their personality and so discover their unique 'treasure', which God has placed in them.
Target group are children between 4 and 6 years old. The group usually has around 15 children.
The preschool takes place at:
Materské centrum Babätko, Krupinská 2, Bratislava
The club runs three times per week on Mondays, Wednesdays and Fridays from 9.00 till 12.30 hrs.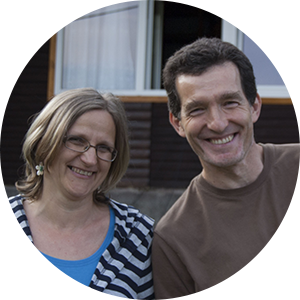 Vlado & Renata Sochor
We have been married since 1991 and have 4 kids. In 1999 we started volunteering in family camps. After six years of volunteering we completed a Family Ministry School and joined YWAM Slovakia as full time staff. We believe that each family has a destiny from God and we enjoy discovering that destiny in our own family and helping others to do the same.
Email: rodinysposlanim@ywam.sk